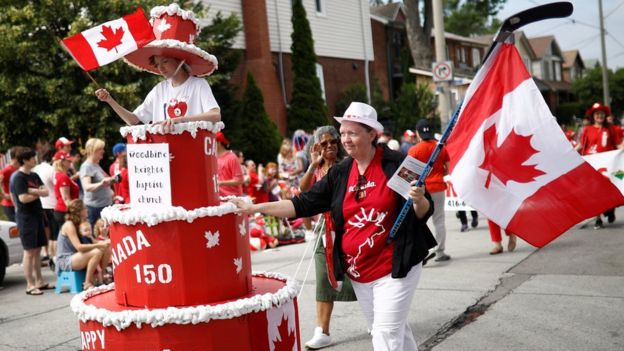 Canada
marked its 150th anniversary as a country in towns, cities and at backyard barbecues nationwide. But the biggest bash was at
Parliament Hill
in Ottawa, where thousands of people joined the celebrations.
Large crowds turned out in their droves - albeit huddled under umbrellas, trying to avoid the rain.
Some partygoers, like 24-year-old students Morgan Haines, Jon Salamati and Nima Sahebi, got to the hill before the sun had even risen.
Their early morning netted them a prime spot right next to the main stage, where they said they planned to stay until after the fireworks at midnight.
The three travelled from Vancouver, on Canada's west coast, to celebrate the day in the capital.
"One-fifty is only going to happen once," Mr Salamati said. "By the time we hit Canada 200, we might not be able to do this trip."
The celebrations included a concert by Canadian artists, a display from Canada's aerobatics squadron the Snowbirds, a citizenship ceremony for new Canadians, and a massive fireworks display.
Canadian theatre giants Cirque du Soleil performed, and Bono and The Edge from the rock band U2 serenaded the crowd with an acoustic set.
Canada's
Prime Minister Justin Trudeau
, who has made inclusiveness a political calling card, gave a speech celebrating that attribute.
"We don't care where you're from or what religion you practice, or whom you love - you are all welcome in Canada," he said to cheers from the crowd.
Mr Trudeau's speech was delivered in both English and French, a tradition in Canada, which recognizes both as its official languages.
"This is as good a reason as any to reflect on our past, to cheer on today, and to recommit ourselves to the future," he said to the 25,000 partygoers who had waited hours to get past security and on to the parliament's lawn.